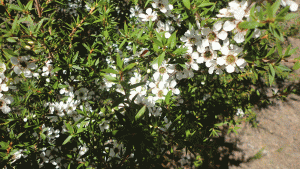 The answer is simply…No!
Selected  Leptospermum cultivars became very popular in Australia and New Zealand mainly in the '60s and '70s. These were called 'tea trees' and were primarily selected as cultivars or hybridised for their habit or their colour or foliage.
Many were selected for compact sizes for domestic gardens where the flowering was a bonus or a featured trait.
Despite considerable efforts, the plant breeders were never able to find a way for these cultivars to hold their flowers, for an acceptable period, so there was no real commercial opportunity for the cut flower market.
The popularity of these plants has waned considerably in Australia over more recent decades where now they are not as commonly seen in native gardens or in the urban landscape as they may have been in the past.
Some people associate 'tea tree' with coloured flowers but unfortunately with the Leptospermum that we are dealing with, there is only one choice…white!