Simply yes.!
There is a misconception that Leptospermum polygalifolium is sensitive to cold based entirely on the premise that if it comes from Queensland it must be cold sensitive!.
Ornamental selections of Leptospermum polygalifolium such as the dwarf garden ornamental subsp tropicum 'Cardwell' have been cultivated extensively in the coldest parts of southern Australia for decades and never shown any sign of ill effects from the cold. The location of Cardwell is located on the coast between Townsville and Cairns in NQ.
That being the case, it could be assumed that the Leptospermum species generally from sea level along the NSW and QLD coastal belt would also be at least reasonably cold tolerant.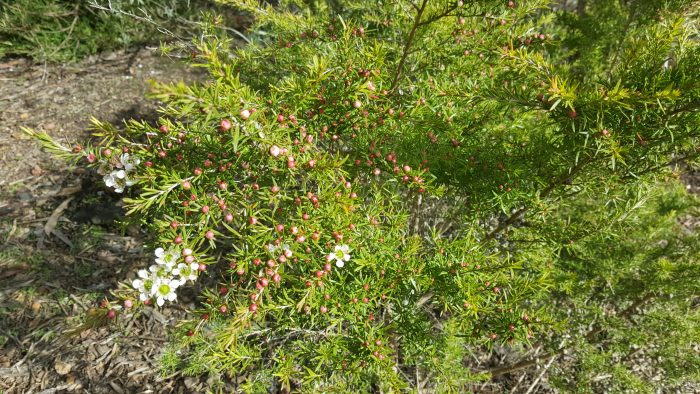 Leptospermum polygalifolium subspp tropicum cv 'Cardwell' growing in a garden setting in SW Victoria in an area subject to regular frost. Interestingly, this plant is flowering in July at the time the photo was taken.
To be sure about all this it seems logical to find communities of the species at altitude growing naturally in super cold areas and the propagate seedlings from those plants There is a community of L. polygalifolium subspp polygalifolium growing near Braidwood NSW. This is extremely cold in winter, colder than anywhere in the southern states likely to be hosting Leptospermum plantations. This project is underway.
While there, I went to an area near Bombala NSW where the northernmost Leptospermum scoparium meets the southernmost occurrence of Leptospermum polygalifolium subspp polygalifolium. This is also a very cold area.
And not surprisingly found a small community of L. polygalifolium x scoparium hybrids which displayed physical characteristics of the two. A visual assessment showed these plants also displayed considerable hybrid vigour.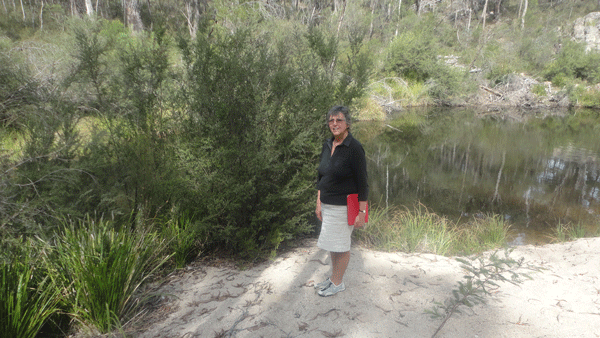 Leptospermum polygalifolium x scoparium
The reverse is less predictable when considering L. scoparium going north into NSW and QLD.
The reason you would do this is to possibly increase the flowering period by augmenting L polygalifolium as the two could well flower at different times. This needs to be tested with some small trial plantings.
The very cold areas around the ACT, Goulburn and up the western side of Great Dividing Range up to the New England Region and even into the Qld Granite Belt would be OK.
Except for the south coast of NSW, the rest of coastal NSW and coastal QLD is far less predictable because the humidity in Summer may induce sooty mould in L. scoparium.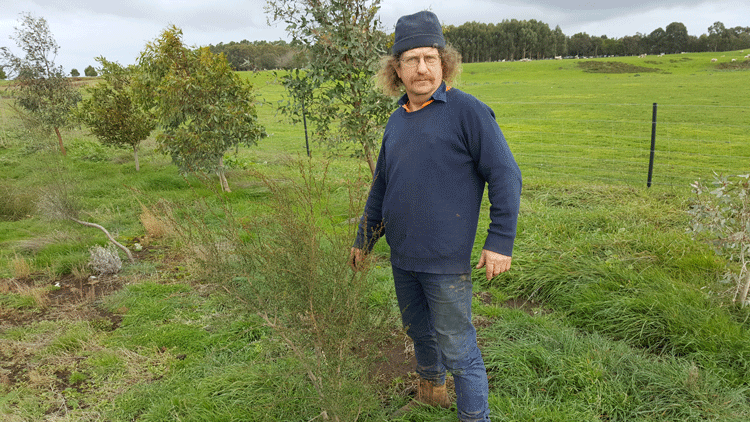 Leptospermum polygalifolium subsp polygalifolium at age 24 months (Spring 2014 planting) growing in a mixed species shelter belt on 'Boondaroo' near Mount Napier (a young inactive volcano) 20 km SE of Hamilton in SW Victoria. The area is characterised by shallow volcanic soils over mass basalt. Planting is only achieved here with the assistance of a crowbar as described by Geoff the landowner pictured above!
The areas is severely dry in Summer and cold and wet (albeit well-drained) in Winter with moderate frost. The year following planting was severely drought affected. Despite these apparent limitations the 40 of these plants established here look very healthy and have a very high survival rate, despite minimal attention in what is a quite hostile environment.
The lean on the trees in the background indicates the wind effect here.
Interestingly, many of these plants flowered in year 1 and bear mature capsules as verification of this observation. These plants are outperforming the 3 or so Melaleuca species also represented in this planting in terms of their height and general growth performance.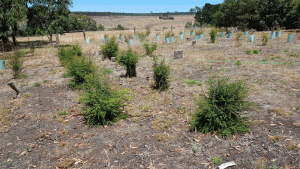 This is a polygalifolium flowering and cold tolerance indicator trial on my property in South Western Victoria. This area has moderate frost exposure, cold damp winters and dry summers with temperatures regularly >38C. This is almost the exact reverse to the conditions found in their natural habitat.
There are collections from all described subspecies over a range of provenances from the southernmost populations (Moruya NSW) to the northern Atherton Tableland QLD.
So far these plants all appear to be performing really well with strong growth and no adverse responses to the elements.